Cango Continues to Focus on Channel Optimization and Enable All Participants on the Auto Circulation Value Chain
On December 10th, the 2020 China Auto Finance Industry Summit kicked off at Tongzhou Hilton Hotel in Beijing. Sponsored by China Automobile Dealers Association, hosted by the Auto Finance Division of China Automobile Dealers Association and endorsed by the Managing Committee of Tianjin Economic-Technological Development Area, the summit brought together 500 industry professionals who discussed the present and future of auto finance and pondered upon the challenges and opportunities auto finance is currently facing. At the summit, the 2020 rankings of consumer satisfaction with auto finance in China were announced, and Cango was shortlisted among the auto leasing companies consumers were most satisfied with.
Themed on "focus, synergy, insight and breakthrough," the summit aimed at uniting the industry in taking the responsibility for sustainable development and seeking a path for companies' high-quality innovation. Professionals and KOLs from government agencies, industry associations, leading companies and service organizations gathered at the hotel to forecast trends for auto finance's future development and offer suggestions on how the industry and companies should develop the market and innovate.
Chen Xin, Deputy GM of Cango Group, was invited to the roundtable of the summit. He and six other guests brainstormed on how to accelerate the enablement of auto circulation by auto finance in the post-pandemic era. In particular, they discussed the difficulties companies will face in the post-pandemic era and countermeasures they can adopt, and made bold predictions on opportunities that will be presented to the auto finance market. These predictions were based on their interpretation of the macroeconomic downturn and continued deepening of the auto market's structural adjustment, compounded by the likelihood of the pandemic becoming a norm.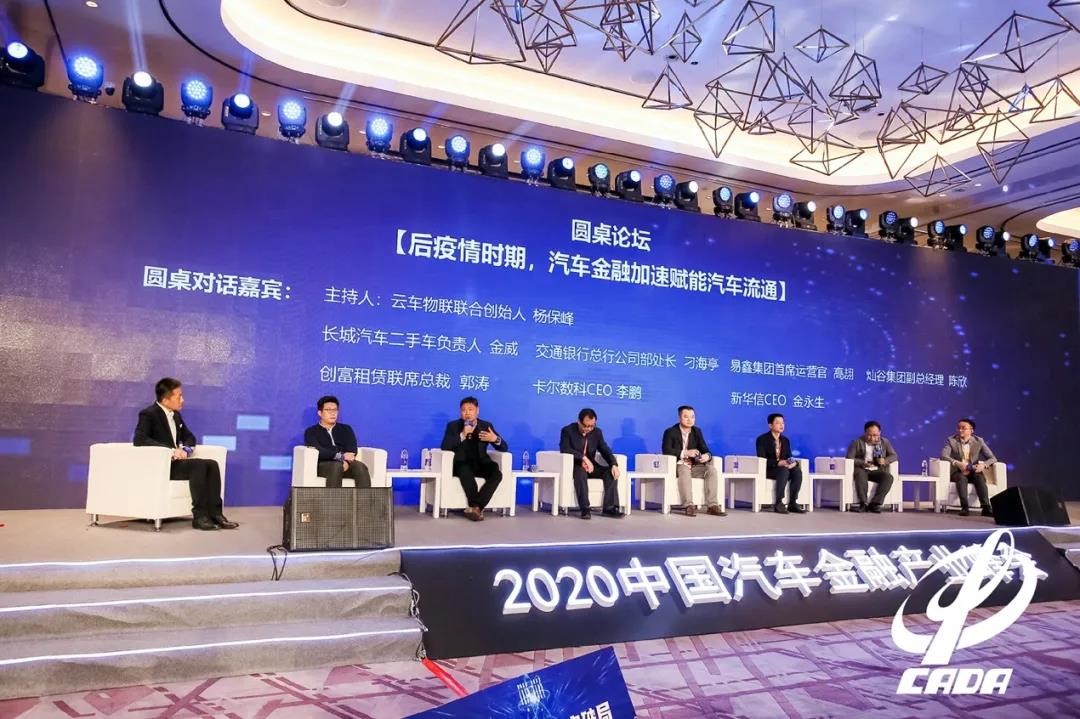 Chen saw 2020 as a particularly stressful year for the entire industry. Nonetheless, Cango has been able to deliver satisfactory results for the past several quarters, thanks to its proactivity in making synchronic strategic adjustments to risk control, operation and finance. For the coming year, Cango will continue to focus on channel optimization and better serve a larger number of collaborating auto dealers and millions of auto buyers through systematic and technology-driven management.
By setting up a new auto retail platform driven by technology and data, Cango has completed deployment in three major fields, which are auto loan facilitation, car trading facilitation and aftermarket services facilitation. Through technology-driven financial enablement and closed-loop services, Cango is reshaping the people-product-marketplace relationship in auto transaction and creating value for all participants on the auto circulation value chain. As of now, Cango has served a total of more than 1.7 million car buyers, thanks to its collaboration with more than a dozen large- and medium-sized commercial banks including the Industrial and Commercial Bank of China, WeBank, Bank of Shanghai and MYbank, more than a dozen insurance institutions including China Pacific Insurance (Group) Co., Ltd. and ZA Insure, gasoline-powered as well as high-tech and new-energy brand OEMs, and close to 50,000 brick-and-mortar dealerships nationwide.
At the end of last month, Cango released its financial report for the third quarter of 2020 which documented business results exceeding market expectations by a sizable margin. Its main businesses have all recorded strong growth for this quarter, while it has deployed in the new-energy auto field in anticipation of in-depth involvement in industry reform. The auto loan facilitation business has added new loans totaling RMB 7.5 billion, which was a year-on-year increase of 30%. The auto aftermarket services business, the bulk of which is insurance facilitation, has brought in RMB 68.9 million, accounting for 15.8% of the total revenue. And the auto transaction business has contributed significantly to this quarter's total revenue as well, to the extent of RMB 70.36 million.